The Laurels of West Carrollton - A Skilled Nursing & Rehabilitation Center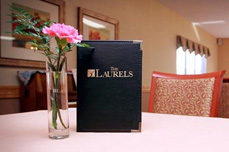 The Laurels of West Carrollton is a 88 bed skilled nursing and rehabilitation center serving West Carrollton and Southern Montgomery County. We are just minutes from Interstate 75.
The Laurels of West Carrollton tailors our short-term respite, rehabilitation, and hospice care to the specific needs of each individual. A unique care plan is fashioned for each rehab guest that speeds the journey from hospital to home.
The Laurels of West Carrollton is widely known for the long-term care and rehab provided to guests in our secured Memory Care Unit. Our team of professionals is specially trained to work with people who have Alzheimer's disease and other types of dementia.
The Laurels of West Carrollton also provides outpatient therapy to meet the needs of our local community and allow our former guests to continue their recovery following discharge.
We also offer a lively and interesting home for the remainder of our extended-stay guests. Activities, community outings, events, and birthday and holiday celebrations that include families keep these guests feeling connected to their community, friends, and families.
The Laurels of West Carrollton has recently undergone a total facility renovation and expansion to make it one of the premier destinations for skilled nursing and rehabilitation in the greater Dayton area. Our short-term guests now enjoy private suites with personal bathrooms and flat screen Televisions. The facility maintains well-appointed common space, expanded activity lounge and formal dining room for our guests and families to enjoy. In addition, our therapy guests will receive treatment in our new state of the art 2,000 square foot rehabilitation gym with top of the line equipment and expanded kitchen where guests can work on their activities of daily living as they transition back to home.
It's easy for the staff of The Laurels of West Carrollton to meet many kinds of needs because a single guiding philosophy, The Laurel Way of Caring, underlies all our work. This unique approach to care dictates that you'll be offered the respect, dignity, compassion, and companionship you deserve each and every day.